"I'm not gonna tell my friends you're a blogger"
Yep, those words came from my person.. I stared at him blankly. Should I be offended, I thought?
Not knowing how I should respond, I laughed awkwardly, kissed him goodnight and shut the door.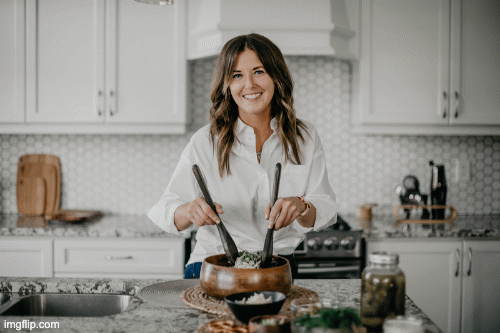 After he left, I sat and pondered his words and realized that I didn't want to tell people I was a blogger either.
What in the actual fork am I doing starting a blog if I don't want to tell people about it?!
The truth is, I didn't want to start a food blog. I hated food blogs. I hated scrolling through bloggers' life stories just to get to the recipe. Only to get to the recipe and find the recipe blocked by a pop up ad that I can't find the X for!! HARD *eye roll*
It wasn't until my brand strategist, Jessica suggested starting a blog as a place for all my recipes to call home that was searchable, that I even considered it.
If I was going to take this on I had to ensure that my blog wasn't going to get lost among the tens of thousands of other food blogs on the world wide web, otherwise I wasn't doing it.
There was a lot of back and forth about how to differentiate the FTW blog from the pack. The main points going completely against what all the other food blogs do, and well friends, that's EXACTLY what I'm gonna do.
I, Chef Jill promise you 5 things:
To never make you search for the 'skip to recipe' button, because I ain't babbling on about the origin of harissa pasta because all you really care about is my delicious shakshuka recipe!

My goal with the FTW blog is to bring out your inner chef & help to instil your kitchen confidence. SOME of my recipes will have ingredients listed without measurements. In these recipes I want you to use your own discretion. We all have different tastes & preferences and I want you to trust your judgement. Now don't worry, these 'discretionary measurements' will never compromise the consistency or integrity of the dish, for those types of dishes I will always provide the correct measurements.

The FTW blog will not have annoying pop up ads that will block the recipes. Does anyone actually click on those!?

I will include measurements in the recipe instructions, so you don't have to keep scrolling back up to the ingredient list every time the instructions say to add the next ingredient.

I'll always be authentic with my brand partnerships and only endorse products and/or services that I have tried & loved.
I hope you know how much it means to me that you've welcomed me into your kitchen because it's definitely my favourite place to be.
Thank you so much for joining me on this adventure & I can't freaking wait to see you recreate my recipes!
Now I think I've yammered on enough, let's get cooking!
Fare Thee Well, my friends!